"On a personal level I had mastered the art of covering up decades of a difficult marriage and unfortunately the physical effects of the stress were becoming more obvious in the past few years."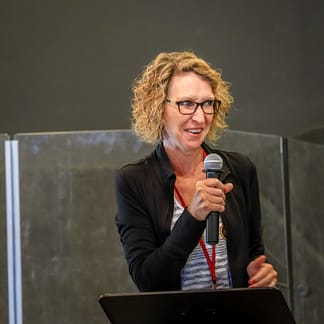 In 2000, I had rededicated my life to the Lord. My husband and I became members at what was then Cedar Hills Ev. Free (now Stonebridge) and I got involved in women's Bible studies, AWANA, women's ministry and I was baptized. Having never gone to church until this time in my early 30's God handpicked some strong Christian women to come alongside me and help me discover who Christ was and what it was to live as a new creation in Christ. Through a course of different events our family moved 10 years later and we began attending a church closer to our home. I continued to serve in my new church and my relationship with God continued to grow.
However, the effects of my relationships at home began to overtake me. I slowly began to withdraw from all of the things I enjoyed which included the areas I loved serving in. Long story short, after several years of intense marriage counseling at Keys to Living, pastoral counseling, dr visits and medication, support from good Christian friends, and personal counseling I could no longer live the double life I had been living.
Last year I found myself in the middle of a divorce after 25 years of marriage and most certainly the darkest days of my life. I was crying out to God daily to bring back Tammi. I loved the old me. I wanted her back. It's weird, but I always sensed God close by telling me He was with me and that the "me" I desired was right there too. I really felt called by God to be honest about my life. I was a mess. Physically, mentally, emotionally, spiritually. My heart was broken beyond what I thought humanly possible. Daily I thought this could not be my life. I was stressed beyond belief.
My family and friends were extremely concerned about me. I got a phone call from a dear friend back on Saturday Jan. 19th. She told me she and her husband, had just started attending a new church and God was telling her to tell me about a Divorce Care class there which started the next day. That sounded good to me because I was really struggling. My heart skipped a beat when she told me it was at Stonebridge. I couldn't face the truth myself that I was divorced let alone the thought of facing people I may know walking into Stonebridge. She told me to pray about it. I had 12 hours to make a decision.
Longest walk ever on Jan 20th from the parking lot to the doors of the church, but best decision ever. Friends I knew from years ago greeted me at the door by name. I nearly fainted. At the welcome desk another long lost friend remembered me and kindly took me to the classroom and told me I was going to love the teachers. Boy was she right.
Each week God gave me the courage to step out of wall I'd built around myself into a classroom where I felt safe and loved. It was like a 12 step program were I could walk in and say, "Hi. My name is Tammi. I am divorced and I am struggling." Through Divorce Care God brought scripture, prayer, videos, discussion with others going through divorce and Godly counsel. I made friends there and actually looked forward to going each week. We had homework and I dove into God's word and boldly prayed for the desires of my heart. I began to realize that lots of how I was feeling was very normal.
God helped me tear down the lies that had been spoken to me and that were not of Him. I really felt God pushing me to be transparent about my life and to stop hiding behind a happy face. Divorce Care classes caused me to miss my home church services, but friends invited me to sit with them during 1st service at Stonebridge which I began doing in early February. This brought on a whole new level of stress as I began to see so many friends and familiar faces from 10 years ago. After 12 weeks of Divorce Care class, which I will forever say saved my life, I continued to come to Sunday services and I joined a LIFE Group.
Stonebridge really has felt like home. I really feel a hug from God each time I walk through the doors.
In conclusion, the Lord has taught me 5 things in this season of life…
1. Be transparent
2. Reach out for and accept help
3. How to be a good friend
4. Say yes to God even when it's out of my comfort zone
5. God. Will. Provide
I've never felt like God wanted me to stay in that pit of darkness and shame I felt from divorce. I know that the good work He began in me will continue. And. Guess what? God helped me find the Tammi I loved. She's back and it feels so good! Divorce is something that happened to me, but it doesn't define me. I love to decorate and that requires decluttering, repurposing and adding a few new things. God removed so many things I thought I wanted and needed to hang onto and in place has given me so many things I didn't know I needed. I want to end with a verse that are words for each of us no matter where we are at in our walk with Christ or what season we may find ourselves in.
Jeremiah 29:11 "For I know the plans I have for you," declares the Lord, "plans to prosper you and not to harm you, plans to give you hope and a future."