I have been helping in children's ministries since I was 10 years old, so not surprisingly, that was the first place I plugged in to serve at Stonebridge. I've spent most of my time here working in the nursery, loving on other people's little ones so they can have a chance to go to the service. Whether they cry and have a hard time being away from Mom and Dad or happily play the whole time I enjoy playing with them or rocking them; singing Bible songs or talking with them about God's creation and His truths.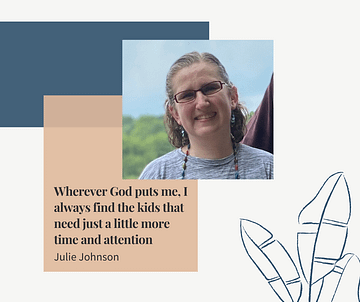 Last year I had the chance to co-teach an elementary Sunday School class and have subbed in almost every class. Wherever God puts me, I always find the kids that need just a little more time and attention. One of the greatest blessings from working with kids is seeing those kids become more comfortable or more in control and able to enjoy the class and have a chance to learn about Jesus.
Over time my husband and kids have served alongside me— some of the kids learning to teach and the others being great helpers in SB Kids. Sometimes they are teaching me the ropes, when I have subbed in a class they have been helping in. I am thankful this is something our family can do together to serve and help the next generation take their next steps with Jesus.
How have you grown and/or changed this past year? Where have you seen God at work in your life? Please take a moment to share your story with us!