"A Lifetime of Building yields a Legacy of Believers" The Anholt's story of God's leading over 90 years
Raised in the farm country of rural Iowa, Joe Anholt, age 99, and his wife, Evelyn, age 95, have spent their lives building. And no matter what they were building, they saw God's hand in it all.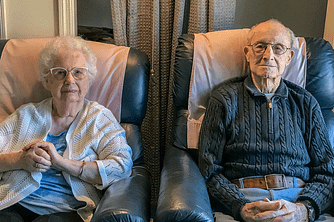 On February 7, 1942, with only their parents as witnesses, Joe (age 22) and Evelyn (age 18) were married quickly believing that Joe would soon be drafted to serve in World War II. However, because he was a farmer, Joe was deemed a "class 2A" which meant it was critical for him to stay back and continue his work to sustain the country during war. So … he began to build.
Joe's first building was a small home (without electricity) for the new couple to live in on his parent's farm near Paton, IA. After farming for twenty plus years, the couple and their four children moved to Fort Dodge in 1963, where Joe built their second home and built two large out buildings which housed 19,000 laying hens. Evelyn went to work for the school system and then into social work.

Joe and Evelyn committed their lives to Christ one evening during an evangelistic service in 1950. This commitment began different kind of building – building God's kingdom. Joe and Evelyn were growing in their faith and growing their family. Their first concern was that their children know Christ as their Savior and the Lord honored that concern. They had a burden for others to know Jesus and in 1965, they joined with a few other couples to start an Evangelical Free Church plant in Fort Dodge. They began building relationships with people in their community and the church grew and flourished. This was the beginning of their legacy of believers with many more to come. Not only did the church grow but they also helped start a Christian school associated with the Free Church that is still thriving today.
God continued to give Joe and Evelyn opportunities to help others grow in their faith through Bible studies, small group meetings, Sunday school teaching, a young married couples group and serving with the EFCA District Board of Directors. While Joe served as chairman of the board, he would travel to various churches and fill the pulpit for pastors who were on vacation.
In the late 1970's, Joe and a few others from the District Board began looking for some land to create a Bible Camp that could be shared by all the district churches. Joe had been praying for God's leading and one day was driving by some farm land he thought would be perfect for the camp. He stopped and talked with the farmer who told him, "I have been saving this part of my land hoping for someone to build a church camp here." Joe took the idea to the district committee, they walked land, and were undecided about its purchase. They knelt to pray in tall grass beneath an old oak tree and when they finished praying they unanimously decided to purchase the land. In 1979, Hidden Acres Christian Camp was established and the building began. Today, Hidden Acres is the largest camp in Iowa.

In 1987, the Anholt's built another new home, moving to Cedar Rapids to be closer to their children and grandchildren. Soon after they began attending Cedar Hills Evangelical Free Church (now Stonebridge) and continued to build relationships with others in the hopes of sharing the love of Jesus.
In 2000, Joe built his fourth and final home at age 80. And, although he has retired from building homes and barns, he continues to build relationships to share the gospel. Just ask the people at Burger King on Edgewood, where he goes regularly to have coffee and look for opportunities to talk with others about God's love for them.

Even in their 90's, Joe and Evelyn faithfully continue to serve the Lord and obey His calling to share the good news. The result? A legacy of believers throughout the decades and it continues to build each day.