by Kirsten Poggenklass
"I will give thanks to the Lord with all my heart…" Psalm 111:1
Last Wednesday night, we asked the Stonebridge Kids to write something that they are thankful for this year.  It was wonderful to see how so many children noted their thanks for God, Jesus, their families, friends and even various ministries in the church.  Among all of these wonderful little notes was one that caught my attention. It was a little different than all the rest. I wondered who would have written something like that… little did I know it was someone I know pretty well.
As is common leading into Thanksgiving, we started our dinner conversation earlier this week by asking our kids what they were most thankful for this year.  Just one thing.  The best thing.
Two of our kids had answers right away, at the tips of their tongues. Family. A warm home to live in.  But our son paused for a long time.  "It's really hard to pick just one," he said.
Finally, after a few minutes of serious thought he gave his answer.
"Bathrooms," he said with confidence. A rumble of snickers could be heard around the table. "Be serious! That's not your real answer," retorted his sister.
With a very sober and rather frustrated face, he replied, "That IS what I am most thankful for. Bathrooms. It's something you need a lot of times during the day. Some people in the world don't have indoor bathrooms and I'm thankful for them."
I was suddenly reminded of the little cards I had read earlier in the week.  "Bathrooms" — so it was my kid who wrote that one! Ha!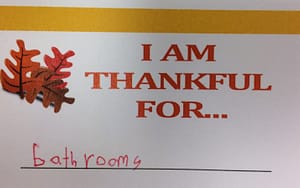 At first I wasn't sure how to respond, but his sincerity and seemingly simple answer caused me to pause.  It made me think about all of the "hidden" blessings I take for granted every day, assuming they are kind of a "given" in life and forgetting to acknowledge that "every good and perfect gift is from God" (James 1:17).
Over the past few days, I have been challenged to examine my own heart and consider my everyday circumstances differently.  For example, do I grumble about folding a huge pile of laundry, or do I give praise to God for blessing me with the beautiful family who wears those clothes and for a washer and dryer to clean them with?  Do I lament about getting groceries or am I thankful for the funds to buy healthy food?
"Giving thanks to the Lord with all our hearts" (Psalm 111:1) means opening our eyes to all of the everyday blessings He provides and giving Him praise for them.  As my son reminded me, even the luxury of indoor plumbing is a true gift from above.
Take a moment today and consider how God has blessed you abundantly.  And, the next time you use…or better yet, have to clean… the bathroom, thank Him for that too.
Happy Thanksgiving!
Giving thanks to the Lord with all our hearts means opening our eyes to the everyday blessings He provides and giving Him praise. #NextSteps

— Stonebridge Church (@StonebridgeCR) November 25, 2015