Each Monday is a new adventure. New people. New stories. New pain to overcome. Yet, through a couple of women determined to bring hope, hidden treasures are uncovered each week in the hearts of the women recovering from addiction at ASAC Heart of Iowa.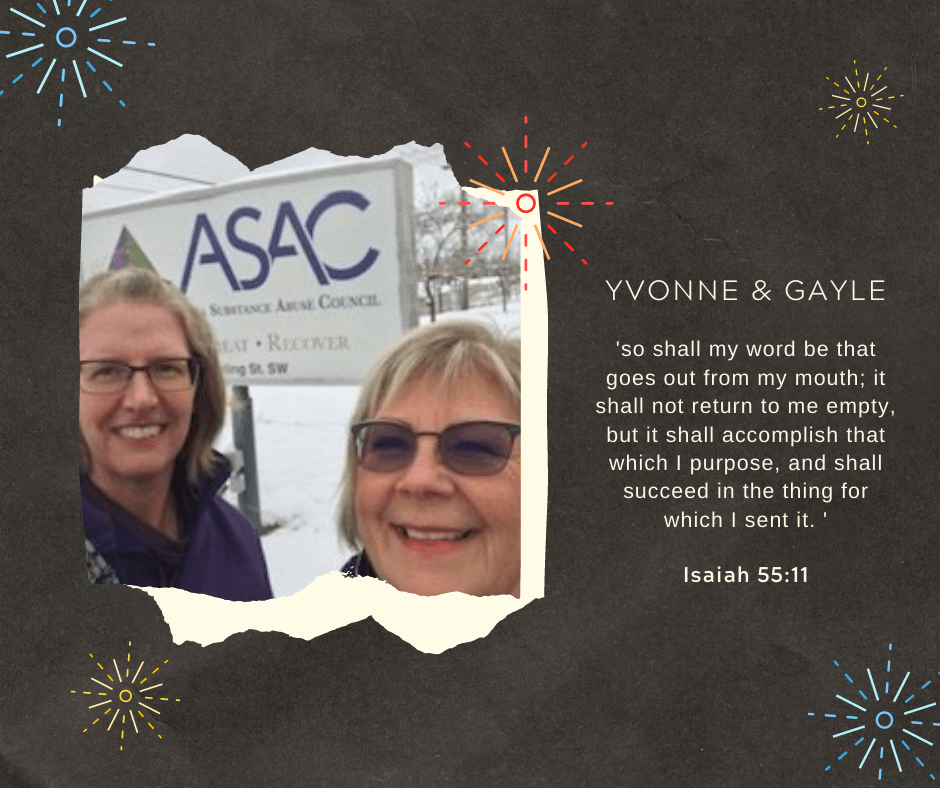 Over the last three years, more than 100 women have attended a Bible study led by Gayle Woods and Yvonne Jonas on Monday nights at the ASAC Heart of Iowa residential addiction recovery center. All the women at this facility are mothers and are in various stages of treatment for drug and alcohol addiction. Many face significant challenges in all areas of life and are struggling just to make it through the day. But during one hour on Monday nights, they have a chance to come and be loved unconditionally, to hear about people in the Bible who struggled like they are, to be seen simply as a child of God and hear of the love and hope of Jesus. 
"It's more than just planting seeds," said Gayle. "You hear the heart break of the relationships with kids and men in their lives. You hear their struggles of self-doubt and shame. But in these moments of vulnerability, we've had the chance to uncover some spiritual truths they learned many years ago that have just been hidden in their hearts and covered up with other things all these years."
"We often only see each woman for three or four weeks at most. Some only come once, but each week it is amazing to us how God has orchestrated the events of the day, the lesson we prepared or the song we are singing to specifically touch the heart of someone who showed up that night," Gayle continued.
Week after week, we see evidence of God's presence and His faithfulness to remind many of these women that he has been with them all along.
Lisa is one of these ladies. She came wearing a necklace with pagan symbols on it and shared that although she had gone to church as a child, she had recently been exploring witchcraft and paganism. After reading scripture and hearing God's Word that night, she turned to Gayle and said, "You know, I think I've been studying the wrong thing." Lisa continued to come for several weeks and submitted several specific prayer requests, asking God to help with the details of her transition back into everyday life. Each week Gayle and Yvonne would pray for Lisa and ask her about how things were going. Over and over, she would pause and see that God had answered her prayer. She was beginning to trust God more and more with her life each day. Toward the end of her time in the study, Lisa read Ezekiel 36:26, and was visibly moved by what she read, realizing she wanted God to replace her heart of stone with a new heart and spirit.
Another woman, Sarah, came just to talk with a friend. When she found out it was a Bible study, she scoffed and made it clear she was not interested in the Bible. By the end of the time together, she was reading out of the Bible with the rest of the group and expressed interest in coming back next week. A wonderful evidence that God's Word does not return void (Isaiah 55:11)!
Leading this group has also been a step of faith for Gayle and Yvonne. Although both of these women have taught many studies and led groups in the past, the unique challenges of this group and the revolving door of attendees has stretched them in new ways.
"It's been good to learn how to teach the Bible in this way and really focusing on helping them understand who Jesus is," Gayle said. "There are many weeks I am not sure how things are going to go, but after the study Yvonne and I just look at each other and are amazed at what God just did in that room.
For example, one week, we decided to introduce a new song to the group. It's an older song that isn't really sung a lot, but we felt led to sing it that night. A woman who came for the first time that night, remembered the song from her childhood and knew all the words. It was something she had hidden in her heart many years ago and hadn't thought of until that night. You could see how meaningful it was to her. What a blessing!"
In Psalm 119:11, the author says he is hiding God's Word in His heart that he may not sin against God.
What a powerful practice and encouragement for us all! May we, like Gayle and Yvonne, seek to help others uncover hidden treasures of God's Word and His truths that are hidden in the hearts of those we know and love. Take a step of faith this week and talk with a friend or neighbor about your love for Jesus.