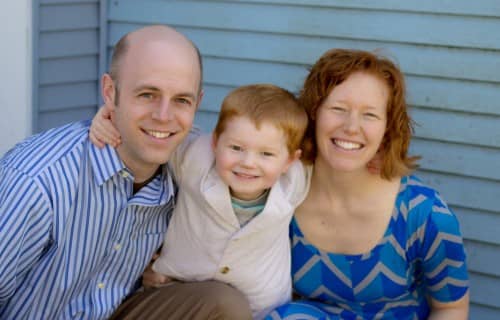 Who are you?
We are Matt and Cassy Townsley, Stonebridge/CHEFC attendees since the fall of 2004. We're both 33 years old and have been married for ten years. We have one three-year-old son, Caleb.
What challenges do you face as a family?
One of the biggest challenges we face as a family is getting too busy to reach out to our neighbors. Matt is in education which takes up a lot of outside of work time with meetings, being constantly available via email if things come up and getting ready for upcoming presentations at school or for conferences. He also is currently pursuing a doctorate in education. We are social people and try to spend time with our life group friends, family in close proximity and enjoy other hobbies such as running races, going to farmer's markets etc. All of this makes leaving margin in our life very important and less time to "just be at home" and able to spend time in our community meeting people. Another challenge for us inviting our neighbors and coworkers to church is that we live in Mt. Vernon, a twenty plus minute drive from Stonebridge.
How have you seen God working in your life in regard to these challenges?
In the past year God has provided several strong believers in our community for us to connect with. They attend a different church but it is nice to have a support system here in Mt. Vernon so that we are able to not feel so lonely when we are here. God has also provided a new family that has moved in next door to us that we really enjoy spending time with.
What things have you implemented with your family to draw them closer to God?
We read the Big Picture Story Bible with Caleb and listen to many Christian radio songs with him as often as possible. We also make it a point to share scripture with him whenever we can whether it is through scripture memorization that we are doing, reading a verse of the day from our devotionals or just asking questions about what he has learned in class at church. We also look for any opportunity to pray together as a family.
What advice would you give others who are facing similar challenges?
First and foremost, make margin in your lives! (We feel we can say this, because we're constantly struggling to do so as a family 🙂 Get involved with a life group. We also hope to balance kids' activities with our priority of serving God through the local church and in our community. In other words, we strive to make prayer and Bible reading a high priority with other priorities falling in line behind them.