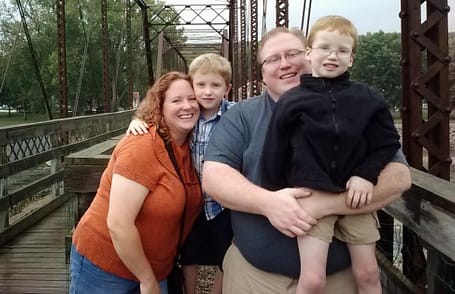 Meet the Seifert's:  Jeremy, Beth, Marcus and Drew
Who are you?
The Seifert clan consists of Jeremy, Beth, and dynamic duo Marcus (8) and Drew (7). Jeremy is a reliability analyst at Rockwell Collins, Beth is keeper of the home, the primary educator of our children, and also a bible study teacher for a radio women's ministry based in Green Bay, WI. Marcus is 8 and loves all things Superhero, action, and competition and Drew is our sensitive one, mixing superheros with hugs and service.
What challenges do you face as a family?
Jeremy: I think one of the biggest challenges we face is how we raise our children to truly know God, and to seek His face, when the lure of the world is so strong.
Beth: Yes I think the biggest challenge we face is raising Godly children in a world that is ever-bent on distorting truth and soft-selling the Gospel.
How have you seen God working in your life in regard to these challenges?
Jeremy: God has routinely used our children to spur us on to be more diligent in our lives, either through some sort of conviction, or the reminder that they are young but growing so fast and our time with them is short. We can't afford to get distracted when we are with them so short a time. And human as we are, distractions are still a part of life.
What things have you implemented with your family to draw them closer to God?
Jeremy: One thing I'd say is that we try as much as we can to bring all aspects of our life back to Godly principles and Biblical contexts. We are constantly having 'time outs' from life where we stop and talk about something that just happened, or try to draw out a biblical principle from someone's behavior or words. Maybe it's just playtime, and one of the boys says something we can use as a jumping off point. Maybe it's commenting on a news story we read online, or the behavior of someone that was either particularly exemplary or lacking grace or honor. We work to get them to really know scripture, so my wife does scripture memorization with them as the first part of every school day, and I read to them out of the Bible and have biblical discussions with them about sermons and what they're learning.
Beth: We as a family really strive to keep 'the main thing' the main thing. The world tells us to be busy for the sake of 'busyness' and 'more programs' + 'more enrichment' = better children. If my children excel at 5 sports, 3 instruments, and 4 foreign languages but don't know God, their lives haven't really been enriched because they're still without hope. If you have to deliberately find ways to drop other parts of your life to make room for Jesus then he's not really the Lord of your life. We can talk all we want about 'being more intentional' but you don't have to 'try to be intentional' if he's truly the most important thing in your life.
What advice would you give others who are facing similar struggles?
Beth: If you find yourself struggling against the lure of activities and programs, ask yourself what is more important: your comfort and pride in your children's accomplishments or the salvation of your children? Are you willing to sacrifice what the world esteems to give to your child things of eternal value? Remember we are not called to blend in.
Jeremy: Like everything else, parenting starts with the Gospel. And like every other area of your life, your parenting will be a reflection of how deeply the Gospel has penetrated into your heart as a parent. So, before anything else, you first need to truly understand the Gospel, and make sure you have truly placed trust and faith in Jesus Christ. Much like the airline announcements caution us to 'put on your own mask before attending to those of your children' we must make sure we have repented and are secure in our own faith before we can be expected to lead our children there. Eternal Life is not something you can stand outside and say 'further in, children, go that way' when you yourselves have not done so. So, if you're reading this and you know that you haven't yet taken this step, then read no further for it will do you no good.
After that, I'd say that the best thing you can do is to live your lives as openly in front of your kids as possible. Pray with them. Pray FOR them. Give to church and missions. When you wrong them, apologize and seek forgiveness. Love your spouse in front of them. Talk about matters of God as often as you can. Get their opinions, but also speak with authority on scripture to them – and if you don't feel you can do that, then you can study. A wise man once told me that you only need to have learned just a little more than they know. You MUST be in the Word with them. In John 6, Jesus is faced with the departure of an entire crowd of his followers. He turned to his disciples and said "Do you want to go away as well?" And Peter answered him, "Lord, to whom shall we go? You have the words of eternal life."
Remember that, and teach your children to know that as well. For in this day, churches are forsaking these words and turning away from their professed Lord, and many do this because they've never truly encountered Him. So, make sure that you and your children DO know Jesus. And never forget that your best defense against error and counterfeit is to be intimately familiar with the truth. And as Jesus prayed for all those who would come to believe in John 17: "[Father] Sanctify them in the truth for your word is truth".