My life before Christ, was always full of love, family, having respect for others, and having good morals. I grew up in a Catholic church, where I was baptized as a child, received my first communion and went to mass a few times a month. I believed that there was a God, and in his son Jesus Christ but growing up I was fully invested in athletics, academics, friendships, and family. I found peace solely in the comfort of family, friends the activities I was involved in, but never gave enough thanks and gratitude to Jesus until 2015 when my husband and I experienced years of having trouble conceiving a child.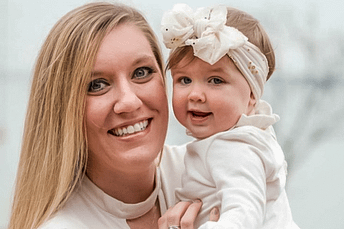 After being devoted to one another for a couple of years, my husband and I struggled to conceive. It was then when I knew all I had was my faith in God to pull my spirits through this emotional life hurdle. I would pray and pray as all I wanted in life was to be a mother. I wanted to be able to guide my son or daughter to live a life by being generous, even when times get tough. I wanted my legacy to carry on through my children and many generations to come. My husband and I after many doctor visits, tests and finding my faith again ended up conceiving our daughter, Cambri, who is now a year old through the process of IVF. We ended up conceiving on the first round/transfer of IVF. It was then when I dropped down on my knees and thanked God. I not only thanked God for giving me the opportunity to become a mother, but asked for forgiveness for my angry trials, my frustrations and my doubts. By not giving up on Christ and continuously thanking him, praying for others in my situation, and coming out of my shell and sharing our story, I felt Christ prevail, truly for the first time in my life.
It was at this very moment when I truly received Christ. When I found out I become pregnant for the first time, even despite our journey and process being different than most. I gave all my thanks to God, it was then when I knew I had to trust in him for the rest of my life. Since I have invested in Christ, I feel I have become the best version of myself. I have become more aware of others feelings, the unknown life struggles, anxiety and challenges we as individuals face. By seeking Christ, it has lifted the barrier and weight off my shoulders as I know he is in control. I have been able to take bigger risks in life without having as much doubt and fear in myself.

In July of 2017, just months after having Cambri, both my husband and I started new careers. My new career is focused on my passion in life, which is helping other people everyday. For the first time in my career journey, I am blessed to get up everyday and change lives. I am able to help educate individuals when it comes to in retirement planning which includes: asset preservation, income and legacy. I get to learn stories, fears, and help solve problems at the kitchen table of individuals that are retired or plan to retire. It is truly a blessing, and I give God and Jesus Christ so much thanks for completely changing my life in just a year. I didn't give up on him, he did not give up on me. As long as we continue to have Christ on our side at all times each and everyday, he will show us in even sometimes the smallest ways, he is there if we trust in him.