It's been an exciting month at Stonebridge as we have welcomed Pastor Brandon Levering and his family to serve with us! For many months we have been praying about and anticipating the time when we would bring a new Lead Pastor into our church family.
When we began this transition process several months ago, we chose to use an "overlap" model. This means that for a period of time, the incumbent Lead Pastor will remain on after the new Lead Pastor begins to allow for training in the new role. Using this model, Pastor Randy Scheil will remain on in a part-time mentoring capacity throughout the summer as Pastor Brandon assumes the full-time Lead Pastor responsibilities.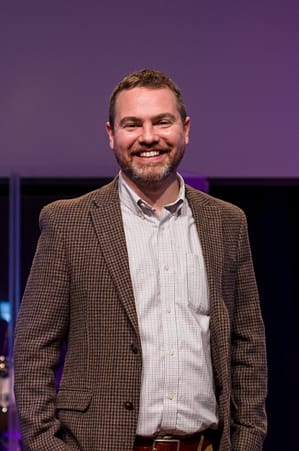 ABOUT BRANDON:
Brandon has seventeen years of experience in ministry, with seven years of experience as a lead/senior pastor. He previously served as the Lead Pastor at Westgate Church in Weston, MA. He and his wife Carissa are both from the Midwest (Nebraska) and still have family in this area of the country. They have four school-age children. Prior to New England, they lived and ministered in Lincoln, Nebraska and Wheaton, Illinois—both of which share Cedar Rapids' small urban/suburban feel. At the same time, their ministry in the Boston area has given them experience working in a more diverse, multi-cultural context, which they have deeply appreciated and enjoyed, and seems also to resonate with Cedar Rapids and its growing immigrant population.
BRANDON'S EXPERIENCE:
After receiving a Bachelor of Science degree in Business Administration from the University of Nebraska (2001), Brandon went on to earn a Masters in Biblical Exegesis from Wheaton College Graduate School (2007). After working with the Navigators and serving as Interim Pastor of Congregational Life at College Church, he went on to become Lead Pastor at Westgate Church. In addition, Brandon currently serves as a Teacher and Chapel Coordinator for Veritas Christian Academy and is an instructor on Biblical Exposition with Charles Simeon Trust.